Possibilities for upskilling and reskilling increase employee engagement and satisfaction. Through training and development initiatives, continuous learning fosters a sense of duty and belonging in employees while also improving staff morale. Employees will feel more capable of handling their current responsibilities and assured that they are developing new abilities to react to any forthcoming shifts in their industry with well-planned career development supported by encouraging learning opportunities.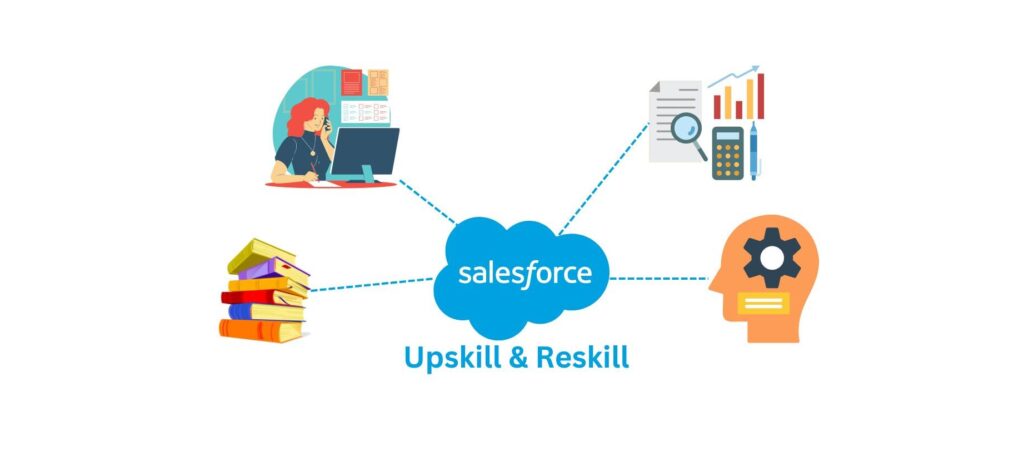 Development of Employee skill sets
Employee skill development and career advancement are both considerably aided by on-the-job learning. In the situation of India, it is even higher: skills acquired on the job account for 56% of the average lifetime salary in addition to fostering an environment that encourages learning and employee retention.
Businesses may close the rapidly expanding skills gap by giving employees the chance to upgrade their abilities. Increased employee capabilities lead to higher productivity and quicker organizational growth thanks to upskilling.
1. Democratize Education: Scheduled Departmental Training
Access to formal training programmes should be made available to all staff, not only those on core teams. You can make sure that every person who wants to gain the skills necessary for in-demand jobs has a fair chance of success in doing so in this way. As a result, they have options for horizontal movement, which encourages them to remain with the same company.
May find and develop future-ready people, find candidates for new roles within the talent pool already in place, and move your business goals along with its assistance in the short to medium term.
2. Recognize various learning styles when developing learning chances
The optimal learning environment for some employees may be a traditional classroom with a teacher. Some individuals might favour taking online courses after
work. Some people can decide to engage in microlearning, which is watching 15-minute films that only briefly touch upon a single subject.
For employees to learn in a way that suits them, organizations must consider all these individual learning preferences and provide training alternatives and programmes for them.
3. Contract with experts for staff skill development
Engage the help of a specialist if your organization is unsure of the kind of skill-building programme that will be valuable to your personnel. For your business and staff, you'll discover that they may create a dynamic learning environment.
This strategy is useful in the opposite situation as well; for example, if you're trying to create an internal group for a new role and want your staff to gain the necessary expertise. It will help generate interest in the sessions and encourage more registration by bringing in outside experts who are knowledgeable about cutting-edge training methods.
4. Honour the educational accomplishments of your staff
A certain approach to appreciate your staff members' abilities and encourage other learners is to recognise their accomplishments in a particular skill set. Employees frequently leave their jobs because they believe their current employers undervalue their skills. To highlight employees' accomplishments depending on their skill sets, managers can offer financial incentives, compliments, and team-wide shoutouts.
Through timely feedback and player incentives, gamification has evolved as a fantastic method for making learning entertaining. To keep staff members interested in their learning, it might be helpful to create a space where they can talk about their learning plans, document their accomplishments, and get rewards for their progress.
Companies can combine the challenge and fun of learning new skills with the chance to give prizes such as community badges, gift cards, vouchers, and more thanks to learning systems like Trailhead, for instance.
5. Encourage staff to use their newly acquired skills
Even a well-executed training session can be rendered useless if the staff members aren't given the chance to put their diverse skill sets to use to boost the value of the company.
For instance, Salesforce promotes stretch projects, whereby staff members are paired with mentors from all over the world to acquire new skills and have the chance to work on tasks that vary from their typical responsibilities.
Salesforce Upskilling's Effect on Organization
Salesforce's primary goal is to increase productivity while assisting organizations in forging stronger customer connections. Efficiency, in a word. A CRM of some form is now used by most firms to aid in daily chores, and its use has risen in popularity along with its capabilities.
However, a lot of companies don't fully utilize their CRM system.
1. Lower Costs and Greater Productivity
By lowering turnover and recruitment costs, Salesforce employee upskilling can result in significant cost savings. A knowledgeable Salesforce staff can also operate more productively, thus increasing total productivity.
2. Enhanced Engagement and Employee Satisfaction
Salesforce training expenditures serve as a sign of your dedication to staff development and raise morale and engagement. Employee engagement increases the likelihood that they will work as efficiently as possible, which benefits your business's success.
Utilize your current abilities from your career since many of them may apply to your new position. To measure your success in learning and skill development, set realistic goals.
3. Promoting innovation and data-driven choices
The ability to use data for better decision-making and innovation is boosted by a staff that has received Salesforce training. As a result, in a continually changing business environment, your organization can continue to be agile and adaptable.
4. Enhancing Competitive Advantage
The organization's reputation and competitiveness will improve because of Salesforce workforce upskilling. This distinguishes your company from the competition by attracting top personnel and encouraging a culture of continual improvement.