Everything in our environment is still moving online. More people today commute to work, attend classes online, and watch new films in the comfort of their living rooms. Connection is essential. It should be clear from this that the telecoms sector is expanding rapidly. Not quite. The term "growth" in the context of telecommunications refers to more than just a rise in connectivity demand. The goal is to offer value by combining connectivity with the tools, technologies, and trends that let a provider innovate, make money, and adhere to new sustainability norms.
Is the telecoms sector expanding, then?
The telecoms sector is not only expanding but also changing. Providers are aware that simply providing a basic level of connectivity may not be sufficient given the creation of economic value outside of the network. Providers need to uncover new possibilities and position their businesses to play a bigger part in the B2B and B2C chains of value if they want to succeed.
The capacity of a provider to expand outside of the conventional connectivity-based business model depends on their ability to maximize their current operations. The growth pathways will change in the future as the industry does.
By providing cutting-edge services, you increase revenue.
Reduce costs by using technology.
Abide by mounting pressure for progress reporting on sustainability.
Deciding factors for a CRM in telecommunications?
Sales automation: The capability of the CRM platform to support key telco sales operations, such as forecasting sales, partner management, and proposal quotation production, is assessed. Additionally examined was the capacity to assist with sales operations through various channels.
Marketing: The CRM platform's capacity to serve different marketing tasks across numerous channels is assessed. It was also thought of to support campaign management features.
Customer service: The CRM platform's level of assistance for the customer service operations of telecoms is evaluated. It determines how well-developed the platform is at offering features like product recommendations.
Analytical Support: Examines how well the platform supports analytical features including cross-channel, predictive, and customer segmentation. Further analysis was done on the platform's capacity to conduct real-time analytics using information from other systems, such as OSS and systems for billing.
Social: Examines the extent, clarity, and proof of the CRM's capacity to assess, respond to, and integrate social media interactions into the customer profile. Considers how much CRM-related activity is transmitted to and accessed from a mobile domain, as well as its confirmation. The term "omnichannel" distinguishes the methods for enhancing capabilities across the spectrum of retail, contact centre's, internet portals, apps, mobile devices, and social media.
Integration: Across all client association channels, the degree of integration is investigated. The degree of connection between CRM software and other telecom systems, like billing, a product catalogue, and order orchestration, is also looked at.
Adoption of telco frameworks: The seller's support for telco-related activities is further assessed using this criterion.
Benefits of Salesforce in Telecommunication Industry
CRM software market leader Salesforce is a wonderful fit for the developing telecommunications sector. Along with the typical contact, Activity, and Account capabilities, it also aids in managing and regulating customer turnover.
A quick identification of pertinent data from various organizational departments, such as sales, support, and marketing, is made possible by its extensive industry-specific features. In addition to preventing recurrence and churn, this data is combined to gain a deeper understanding of client behaviour and patterns.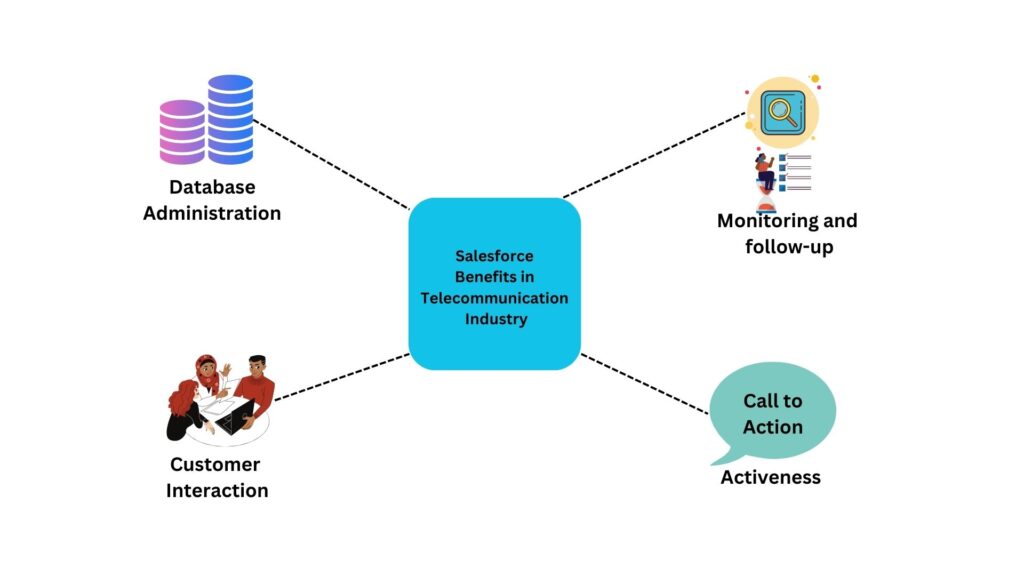 Database Administration
Utilize multiple functional channels to find comprehensive information about each customer. This is especially useful when interacting with customers in a variety of ways since the support staff can handle them more effectively if they are aware of their background and prior interactions with the company.
For specific initiatives, the marketing team might focus on profitable clients to boost ROI. To increase sales, the sales group can concentrate on clients that have a history of converting. No matter how many redundancies or hires you make on your end, uniform data assures that information remains secure, and the consumer always feels at home.
A Successful Customer Interaction
They claim that each interaction with a consumer has an impact on whether they will do business with you again. Salesforce is the only company that truly understands how crucial customer interactions are to the success of a company. With Salesforce, you can get a complete picture of your customers, which makes it easier to design campaigns and offers that are tailored to everyone's preferences, past purchases, and current behaviour. This helps to ensure that every consumer has a personalized experience by using the data you already must keep past consumers informed about new offers and promotions. Customers want to feel not just like the herd but like the alpha.
Monitoring and follow-up
When there are millions of clients, it can be difficult to determine which one is in which step of the pipeline. With so many consumers, it becomes nearly impossible. A branch of Salesforce's data consolidation capability, however, offers a straightforward answer.
The comprehensive data also contains up-to-date information about the customer's standing with the business in real-time. You can distinguish between frequent clients and new consumers using a filter. Additionally, you may filter customers who have recently made a transaction and automatically follow up with them.
A little far-fetched, but there is an opportunity for expansion and refinement. You can monitor their social media behaviours to infer their degree of pleasure with your product.
Activeness
CRM solutions have historically used data mining. The vast amount of data offers a great chance to mine behaviours that can be utilized to examine patterns and forecast market direction. Because there are few distinctions in the quality of the services offered, innovation is the key to success in the telecommunications sector.
With its predictive analytics, Salesforce goes beyond data mining by assisting you in generating educated forecasts about market trends. Use Salesforce to understand the behaviour and routines of your customers to help you plan.