World #1 CRM Salesforce introduces an innovation Einstein GPT, the first generative AI CRM system that creates content at scale for use in sales, service, marketing, commerce, and IT interactions. Along with Einstein GPT salesforce uses generative Artificial Intelligence to completely change customer experience. The standard of the customer experience is raised by Einstein GPT.
Einstein GPT can produce:
Personalized emails for salespeople to send to customers.
Produce precise responses for customer service representatives to address inquiries from customers.
Produce targeted content for marketers to boost campaign response rates.
Produce code automatically for developers to complete projects more quickly.
Uses of Einstein GPT:
Customers can then use Einstein GPT to connect.
Data for cutting-edge AI models from OpenAI, or users can choose their own external model.
Create content that continuously responds to changing customer information and needs in real time by using natural language prompts in their Salesforce CRM.
In other words, Einstein's GPT is the next generation of Einstein. Salesforce's AI technology currently delivers AI-powered predictions across Customer 360. And by combining exclusive Einstein AI models with ChatGPT or other top large language models, customers may use natural-language prompts on CRM data to activate powerful, time-saving automation and produce tailored AI-generated content. Salesforce Launches Einstein GPT for different sectors.
The list is mentioned below: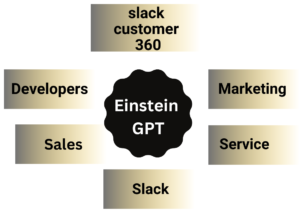 Einstein GPT for Sales: Create sales tasks automatically, such as writing emails, setting up meetings, and getting ready for the next conversation.
Einstein GPT for Service: Create knowledge articles using case notes from previous cases. Create customized agent chat responses automatically to speed up service interactions and improve customer satisfaction.
Einstein GPT for Marketing: Focus on providing personalized content on demand to engage customers and potential customers across advertising, mobile, online, and email.
Einstein GPT for Slack Customer 360 apps: Offer customer data driven by AI to Slack, such as smart sales opportunity summaries, and reveal end-user actions like updating knowledge articles.
Einstein GPT for Developers: Improve developer productivity by employing an AI chat assistant to produce code and ask questions for languages like Apex using Salesforce Study's proprietary large language model.
ChatGPT for Slack: The app provides new AI-powered conversation summaries, research tools to learn about any topic, and writing assistance to quickly draft messages. The value generative AI delivers to improve customer engagement.
Generative AI For Apex
Code generation has many benefits, including:
Consistency and standardization: It ensures consistency and standardization in the codebase by automating the production of repeated code parts.
Rapid prototyping: The Einstein GPT code generator can improve the prototype process.
Reduced code complexity: Code will be made simpler by automating the generation of common patterns and structures, which will increase codebase scalability and ease of maintenance.
It is presently in a closed beta state. It would be interesting to observe how various Salesforce users utilize Einstein GPT because it is undoubtedly a significant development.