With Salesforce Net Zero Cloud, your business can track and examine emissions of carbon and environmental effect in one convenient location. It is an all-inclusive environmental management solution. With this tool, Salesforce hopes to make it possible for all of their clients to track, cut back on, and achieve net-zero carbon footprints right away.
Net Zero Cloud customers benefit from all the features of Salesforce solutions, including full customization, bulk data uploading, APIs for connecting to other platforms, Tableau CRM for comprehensive reporting and data analysis, and Experience Cloud, which powers a supplier management portal. The Salesforce platform provides the foundation for Net Zero Cloud.

The Net Zero Cloud makes it simple to track, evaluate, and track your environmental effect using reliable investor-grade data. The data is of a quality that permits financial filings and third-party audits in addition to serving as a baseline for action planning. The trust and confidence of your stakeholders are increased by having this caliber of data, which also improves the reputation of your business.
What motivated Salesforce to create Net Zero Cloud?
The need for urgent action to combat climate change is the reason Salesforce is committed to bold, multiplicative climate leadership solutions. We hope you will travel with us as we are on a quest to mobilize urgent action.
If you work with Customer & Growth, we'll boost organizational transparency and help your business transition to a net-zero emissions system by:
Deciding on the right strategy for your company
Deciding climate action depends on your circumstances
Data on carbon emissions is being streamlined for one platform.
Progressively incorporating data-driven insights to inform your future choices.
Why Use Net Zero Cloud?
Construction Energy Intensity
A collection of items included with Net Zero Cloud can use data to consume energy and calculate building energy intensity. For organizations with vast estates, this is especially helpful. Imagine if you owned ten buildings and you wanted to lower the ecological footprint of each one of them, but three of them were offices inside factories constructed in the 1970s, one of which was a new construction in a city center, one of which was a Grade 2 listed structure, and the third of which was in the countryside.
Due to recent rules, the new construction will already be exceedingly energy efficient, making it the best performer with limited room for improvement.
Here, building energy intensity is useful since it acts as a baseline, allowing you to evaluate your buildings against one another rather than with one another. This enables you to determine which building is functioning best about its potential for improvement, which is highly useful for determining where to focus your limited resources and how to calculate the return on your investments.
Dashboards and objectives
With Tableau already included in Net Zero Cloud, stunning dashboards are available right away! Objects for managing targets, likely something many of us in the Sales Cloud environment are used to as an ask, are a recent feature that lets customers set their goals and afterward compare them to their actual performance.
Salesforce's Net Zero Cloud solution is comprised of 4 essential dashboards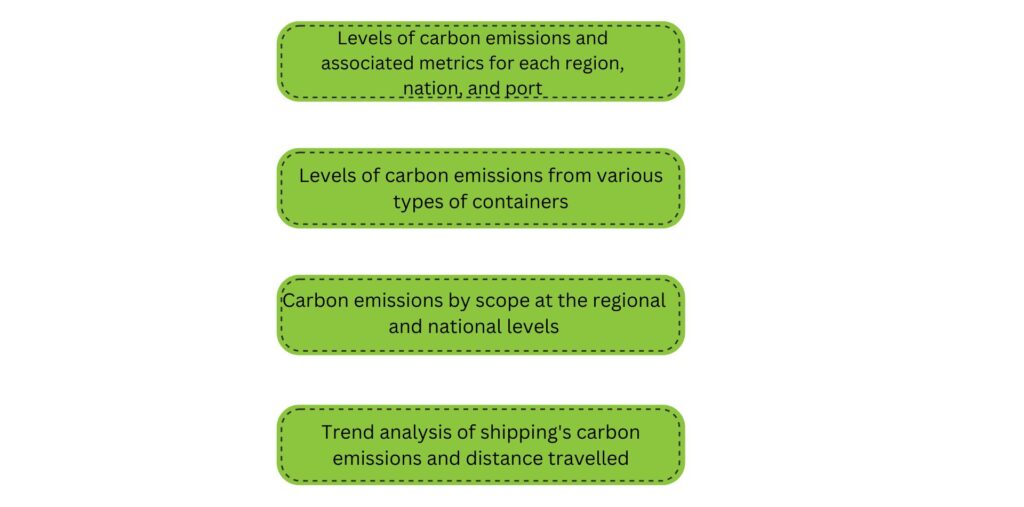 The Net Zero Cloud won't remain static. The supply chain represents a significant opportunity for the growth of the product in question and this industry. To track supply chain carbon accounting, Net Zero Cloud includes a Supplier Scorecard. This is a fantastic beginning, and it is unquestionably a field I can see growing quickly.
Carbon accounting will eventually be a priority for all businesses. The moment is now to discuss how your customers and supply chains are managing their carbon accounting and whether Salesforce Net Zero Cloud might assist them in doing so accurately, safely, and effectively.
A process to become carbon neutral using Customer 360 solutions
Utilize reliable analytics from a reliable platform to lower emissions
The analysis of carbon emissions caused by energy use and business travel can be difficult and time-consuming. You can accurately calculate your carbon footprint for Scope emissions because all your data is on one platform.
Using Customer 360 as the lone source of truth, create a climate action plan. then monitor and measure your plans with ease.
Incorporate Net Zero objectives into operating principles
Put data-driven insights into practice across the board. Show off your dedication to environmentally friendly and sustainable practices to clients, staff, and investors.
Clearly illustrate your energy consumption patterns to regulatory bodies. Utilize cutting-edge analytics to monitor energy use and carbon emissions.
Instead of taking months, complete carbon accounting audits
Resource-intensive is carbon analysis. For an accurate evaluation of your carbon accounting, use prepared datasets from the US EPA, IPCC, and other organizations. Your data collection and the environmental action plan will be more efficient with embedded user flows and instructions.
By linking procurement expenditures to the value of chain categories related to reporting by the Greenhouse Gas Protocol, one can quantify Scope 3 emissions.
Give executives ready-to-use dashboard data to decision-makers
Develop scalable, robust business insights for the sector and wider ecosystem. Follow the trends in energy use and emissions, then use dashboards and sophisticated data visualization to assess the impact on the environment.
The decision-makers in a company can start promoting sustainability solutions once they have identified their carbon footprint.